Advocating for car buyers to be able to seek justice
when deadbeat car dealers go out of business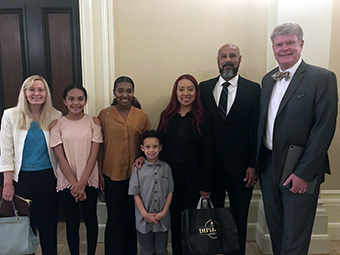 CARS is in the forefront in advocating for passage of legislation in California to allow victims of unscrupulous car dealers and lenders to seek justice, when the dealers go belly-up and leave their customers in the lurch. The legislation we're supporting, AB 1821, is authored by the California Assembly Judiciary Committee, Chaired by Assemblymember Mark Stone, who is championing enactment of the bill. The legislation is aimed at overturning an erroneous court decision in a case filed by Thomas Lafferty against Wells Fargo. Mr. Lafferty sued a dealership that sold him a damaged car without disclosing the prior damage. He also sued Wells Fargo, which financed the deal and had a business relationship with the dealer. The judge ruled that Mr. Lafferty could not recover his attorneys fees, even though he won against Wells Fargo after the dealer went out of business.
It's very easy to get a car dealer's license and bond, and many dealers cheat thousands of consumers by engaging in practices like:
Failing to get cars registered with the DMV
Selling vehicles that fail to meet emissions standards
Selling dangerous rebuilt wrecks or flood cars while advertising them as being in good condition
Falsifying loan applications, trapping car buyers in loans they can't afford
Charging car buyers thousands of dollars for expensive add-ons like "GAP" coverage or loophole-riddled service contracts they don't want, and pocketing the money -- without activating the policies
Taking vehicles in trade and failing to pay off the outstanding loans, leaving car buyers in the lurch with two car payments and one car
Failing to send the permanent license plates to car buyers on time, resulting in completely innocent consumers being pulled over and ticketed, and having their cars impounded, when their temporary tags expire
Then the crooked dealers go out of business, leaving hundreds or thousands of victims on the lurch. Many dealers then turn around and re-open under the name of one of their relatives, and repeat the same scams over and over again.
CARS paid for transportation and lodging so that Navy veteran Glenn Harris could rent a car and drive to Sacramento with his wife and their three children, to testify for passage of AB 1821, before the Senate Judiciary Committee. When he and his wife Crystal bought a car from a dealership in Bakersfield, California, they had no idea how that purchase would affect their lives.
Read Glenn Harris'
testimony
.
After Mr. Harris, CARS President Shahan, and representatives from Consumer Reports, the California Low Income Coalition, and the Western Center on Law and Poverty also testified briefly in favor of AB 1821. In a major victory for belaguered consumers, the Senate Judiciary Committee, chaired by Senator Hannah-Beth Jackson (D-Santa Barbara), voted 7-2 for passage of AB 1821. The votes were:
Chairperson Hannah-Beth Jackson (D)
: YES
Senator Ben Allen (D)
: YES
Senator Anna Caballero (D)
: YES
Senator Bill Monning (D)
: YES
Senator Henry Stern (D)
: YES
Senator Tom Umberg (D)
: YES
Senator Bob Wieckowski (D)
: YES
Senator Andreas Borgeas (R)
: NO
Senator Brian Jones (R)
: NO
Next the bill will be presented on the Senate Floor, and if it passes there, it will go to Governor Newsom for his signature. Onward!!
---