Sen. Boxer urges
General Motors CEO Mary Barra
to support Rental Car Safety Legislation

GM is Part of Industry Trade Group Lobbying to Block Legislation to Protect Consumers from
Unsafe, Recalled Rental Cars

Washington, D.C. –

U.S. Senator Barbara Boxer (D-CA) today sent a letter urging General Motors CEO Mary Barra to support the Raechel and Jacqueline Houck Safe Rental Car Act, bipartisan legislation that would help protect consumers by keeping unsafe, recalled rental cars off the road.

Last week, at a Senate Commerce Subcommittee hearing on GM's recall of 2.6 million vehicles, Senator Boxer

questioned

Barra about GM's troubling opposition to the legislation – through the industry trade group, the Alliance of Automobile Manufacturers – in light of the company's promise to cover the cost of interim rental vehicles while customers wait for their vehicles to be repaired. Barra agreed at the hearing to take a closer look at the legislation.

Senator Boxer wrote,

"Your support for this bill is critical because right now there is no guarantee that your customers are renting safe cars while they wait for their recalled vehicles to be repaired."

Senator Boxer

introduced

the legislation with Senators Claire McCaskill (D-MO), Charles Schumer (D-NY) and Lisa Murkowski (R-AK) after two of Boxer's constituents – Raechel and Jacqueline Houck, two sisters from Santa Cruz – were killed in a tragic accident in 2004 while driving a rented Chrysler PT Cruiser that had been recalled for a power steering hose defect but had not been repaired. The car caught fire because of the defect while traveling on Highway 101 in Monterey County, causing a loss of steering and a head-on collision with a semi-trailer truck.

In September 2012, Senators Boxer, Schumer and McCaskill

announced

that all major car rental companies – Hertz, Enterprise, Avis Budget, Dollar Thrifty, and National – agreed to voluntarily stop the renting or selling of vehicles that have been recalled by their manufacturer and endorsed the legislation.

Although the bipartisan bill has the support of the major rental car companies and consumer advocates, the Alliance of Automobile Manufacturers – which includes GM – has opposed the bill and is working to prevent it from moving forward in the Senate. The National Automobile Dealers Association, which includes many GM franchise dealerships, is also opposed to the legislation.

"You testified that 'When there's a safety issue, there should never be a business consideration that goes against it',"

Senator Boxer continued.

"I hope you will take this to heart as you review this legislation."

The legislation is also endorsed by American Car Rental Association, Consumers for Auto Reliability and Safety, AAA, Advocates for Highway and Auto Safety, Consumers Union, and State Farm Insurance. The bill also has the support of Cally Houck, the mother of Raechel and Jacqueline Houck.

The full text of the letter follows:

April 8, 2014

Mary T. Barra, Chief Executive Officer

General Motors Company
P.O. Box 33170
Detroit, MI 48232-5170

Dear Ms. Barra:

During your testimony before the Senate Commerce Subcommittee on Consumer Protection, Product Safety, and Insurance, you stated that you had not read S. 921, the Raechel and Jacqueline Houck Safe Rental Car Act, which is named after two sisters from Santa Cruz who were killed when a recalled car they had rented caught fire and crashed into a truck.

This legislation, which was first introduced in 2012, would:


Prohibit the rental or sale of rental vehicles subject to a federal safety recall, consistent with existing law for new car dealers, who are prohibited from selling or leasing recalled vehicles.
Require rental companies to ground vehicles within 24 hours of receiving a safety recall notice from the manufacturer. Companies with fleets over 5,000 vehicles would have up to 48 hours.
Permit rental companies to implement temporary measures to eliminate the safety risk until parts are available.
Allow manufacturers to continue to issue technical service bulletins or customer satisfaction service campaigns for problems that do not rise to the level of a federal safety recall.

Your support for this bill is critical because right now there is no guarantee that your customers are renting safe cars while they wait for their recalled vehicles to be repaired.

You testified that "When there's a safety issue, there should never be a business consideration that goes against it." I hope you will take this to heart as you review this legislation.

Sincerely,

Barbara Boxer
United States Senator
---
CA Senator Barbara Boxer
challenges GM CEO Mary Barra:
Stop opposing federal rental car / safety recall bill
Barra claims GM no longer places top priority on costs, at the expense of its customers' safety. But the sole reason that GM and the Auto Alliance give for opposing the Raechel and Jacqueline Houck Rental Car Safety Act? They don't want to face having to pay rental car companies for lost revenue if they have to ground vehicles that are under a safety recall, pending repairs. Apparently GM anticipates making a lot more unsafe vehicles that will be subject to safety recalls. Hardly reassuring.
BOXER PRESSES GENERAL MOTORS CEO MARY BARRA ON RENTAL CAR SAFETY
Senator Asks Why GM Is Part of Industry Effort to Block Legislation to Protect Consumers from Unsafe, Recalled Rental Cars – While at the Same Time Placing Owners of Its Own Recalled Cars into Rental Vehicles
Washington, D.C.
– U.S. Senator Barbara Boxer (D-CA) today questioned General Motors CEO Mary Barra on rental car safety at a Senate Commerce Subcommittee hearing on GM's recall of 2.6 million vehicles. Senator Boxer asked Barra to explain GM's opposition – through the industry trade group, the Alliance of Automobile Manufacturers – to the Raechel and Jacqueline Houck Safe Rental Car Act, which would protect consumers from unsafe rental vehicles under recall – at the same time that GM is placing owners of its own recalled vehicles into rental cars.
To view the video of Senator Boxer's exchange with Barra on her official website, please click
here
.
"Do you support a proposed law by Senator McCaskill and myself that would say recalled cars like yours can no longer be rented or loaned?"
Senator Boxer asked.
After Barra refused to commit to supporting the bill, Senator Boxer responded:
"Now you should know that my constituent Cally Houck lost her two daughters, Raechel, 24, and Jacquie, 20, in a tragic accident caused by an unrepaired safety defect in a rental car they were driving. So [with] Senator Schumer and McCaskill, we wrote the Raechel and Jacqueline Houck Safe Rental Car Act. And you know what, the rental car people support it, but you don't. The automobile manufacturers don't. So you are essentially bragging today, if I may use the word, that you're telling your people to get another car, but at the same time your lobbying organization is opposing a bill that would make sure no one would die the way they died."
While current law prohibits car dealerships from selling new vehicles under recall to consumers, no law bans rental car companies from doing the same or renting them to unsuspecting consumers. The
Raechel and Jacqueline Houck Safe Rental Car Act
– sponsored by Senator Boxer and Senators Claire McCaskill (D-MO), Charles Schumer (D-NY) and Lisa Murkowski (R-AK) – would keep unsafe rental cars that have been recalled off the road.
The bipartisan bill is named in honor of Raechel and Jacqueline Houck, two sisters from Santa Cruz, who were killed in a tragic accident in 2004 while driving a rented Chrysler PT Cruiser that had been recalled for a power steering hose defect but had not been repaired. The car caught fire because of the defect while traveling on Highway 101 in Monterey County, causing a loss of steering and a head-on collision with a semi-trailer truck.
In September 2012, Senators Boxer, Schumer and McCaskill
announced
that all major car rental companies – Hertz, Enterprise, Avis Budget, Dollar Thrifty, and National – agreed to voluntarily stop the renting or selling of vehicles that have been recalled by their manufacturer and endorsed the legislation.
Although the bill has the support of the major rental car companies and consumer advocates, the Alliance of Automobile Manufacturers – which includes GM – has opposed the bill and is working to prevent it from moving forward in the Senate. The National Automobile Dealers Association, which includes many GM franchise dealerships, is also opposed to the legislation.
Boxer made clear that Barra's stance is especially troubling in light of GM's promise to cover the cost of interim rental vehicles while its customers wait for their vehicles to be repaired. Although the major rental car companies have pledged to keep unsafe vehicles off the road, there is no assurance that a driver will be placed in a safer vehicle since there is no federal law that prevents unsafe, recalled vehicles from being sold or rented to consumers.
Senator Boxer pointed out,
"So you can send your owner of one of these cars to a rental place to get a loaner … and they could get a defective car."
The legislation is also endorsed by American Car Rental Association, Consumers for Auto Reliability and Safety, AAA, Advocates for Highway and Auto Safety, Consumers Union, and State Farm Insurance.
---
GM continues to oppose Rental Car Safety Recall Legislation pending in Congress
GM CEO Mary Barra's mantra when she testified before Congress is that the "new" GM has changed its corporate culture from focusing on "costs" to focusing on "safety" and being more customer-friendly. In order to make its case more persuasive, GM is offering owners of recalled Cobalts and Saturn Ions and other vehicles with the ignition switch defect a loaner or rental car, provided by a GM dealer. According to Barra's testimony for the US House on Tuesday, GM and its dealers have loaned 13,000 vehicles to its customers.
But is that claim credible? Sadly, not when it comes to protecting its customers from unsafe, recalled cars -- if they happen to be rental cars. GM is among the members of the Alliance of Auto Manufacturers, which has been actively blocking passage of the Raechel and Jacqueline Houck Rental Car Safety Act, named for two California sisters, ages 20 and 24, who were killed on October 7, 2004 by a 2004 Chrysler PT Cruiser that Enterprise Rental Car Company rented to them, despite a power steering hose defect that led Chrysler to issue a safety recall of the vehicle about 30 days before Enterprise rented it to Raechel and Jacquie -- without having the safety defect repaired.
The Act, S 921, is championed by Senators Schumer, Boxer, Blumenthal, and McCaskill, whose subcommittee held a hearing last May, where Cally Houck of Ojai, CA, Raechel and Jacquie's mother, testified. The Act would simply prohibit rental car companies from renting unsafe, defective recalled vehicles to consumers, until the safety recall repairs have been performed. After initially opposing the bill, Hertz, Enterprise, Avis, and many smaller rental car companies, including the American Rental Car Association, have joined forces with consumer groups to work for its enactment. The bill passed in the full Senate Commerce Committee on a unanimous voice vote. However, the Alliance and the National Automobile Dealers Association remain opposed and are blocking its enactment, urging Senators not to join in co-sponsoring the safety legislation.
According to the Auto Alliance, its opposition stems from manufacturers' concerns that they may be held liable for compensating rental car companies for lost revenue while recalled vehicles are grounded, pending repairs. Consumer groups counter that since they made the defective products, they should be held responsible. In addition, manufacturers often sue their own suppliers or otherwise negotiate for compensation from suppliers for recall costs.
The National Automobile Dealers Association scoffs at what it considers "minor" safety recalls, and insists that the bill should apply only to the extremely rare circumstances when a manufacturer issues a "Do Not Drive" warning to its customers -- ignoring the fact that many consumers with recalled vehicles choose on their own to drive them as little as possible, but often depend on their vehicles to get to work, school, or medical appointment. Plus, consumers are in a very different position from rental car companies and dealers who are in the business of selling or renting vehicles to the public.
View testimony presented at US Senate Hearing on the Raechel and Jacqueline Houck Rental Car Safety Act:
---
---
Consumer Financial Protection Bureau and U.S. Department of Justice Tackle auto dealer markups on auto loans
CARS President joins civil rights, consumer rights leaders on auto lending panel at CFPB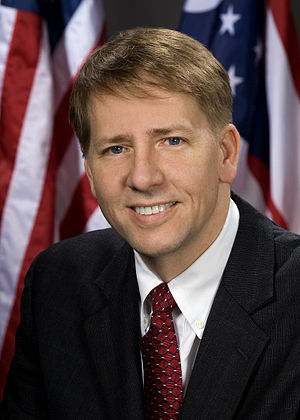 Federal regulators, including the Consumer Financial Protection Bureau, have put auto lenders on notice they face a new level of scrutiny over their discriminatory auto lending practices, which result in minority car buyers being charged extra amounts in hidden excessive interest rates, despite having the same credit as non-minority borrowers.
According to CFPB Director Richard Cordray, "Some people end up paying more on their auto loans than their neighbors – with the difference being not their creditworthiness but their race or ethnicity. Such discrimination may result in millions of dollars in unjustified consumer harm every year in the auto lending industry."
Lenders such as Ally Bank have notified stockholders that they face the possibility of fines or other penalties linked to legal action over discriminatory auto lending. Ally Bank, formerly named the General Motors Acceptance Corporation, collapsed during the recession and was bailed out by taxpayers, to the tune of tens of billions of dollars. In 2004, GMAC settled similar litigation brought on behalf of African American and Latino borrowers who were charged higher dealer "markups" than their white counterparts who had similar credit.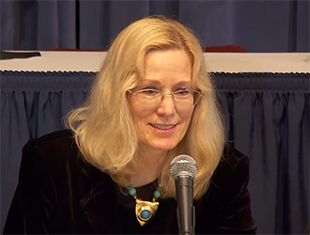 New York Times: Scrutiny over disparity in loan fees at auto dealerships
CARS President Rosemary Shahan testified on a panel with Stuart Rossman from the National Consumer Law Center, Hilary Shelton from the National Association for the Advancement of Colored People (NAACP), and a representative of the Minority Auto Dealers Association. Rosemary stated that CARS opposes dealers being able to charge extra hidden fees that add to the interest rates consumers pay for auto financing. For many years, CARS has spearheaded efforts in California to reduce the risk of discriminatory auto lending and the costs car buyers pay for dealer markups. In 2004, CARS sought to cap dealer markups at $150 per transaction, via the Car Buyer Bill of Rights, a ballot initiative that statewide polling showed to be extremely popular. As the result of a watered-down legislative compromise, CA ended up with caps on dealer markups -- 2.5% for loans up to 60 months and 2% for longer loans. Except for Louisiana, California is the only state with a law that caps dealer markups.
On October 30, CARS filed the Car Buyers Protection Act, a new ballot initiative to make newer, cleaner, safer vehicles more affordable, including flat-out prohibiting dealer markups on auto financing. Among likely voters in 2014, that provision polls at an overwhelming 82% support.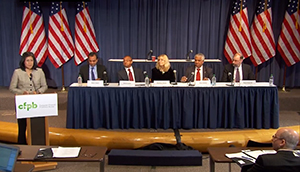 Read more:
CFPB Director Richard Corday's remarks at the CFPB's Auto Finance Forum
Civil rights and consumer advocacy groups clash with auto dealers and lenders --
watch video of
Consumer Financial Protection Forum on Auto Financing
Wall Street Journal: Banks press car dealers on loan practice
US Department of Justice files lawsuit alleging auto lending discrimination in Los Angeles
LA Times: "Car dealer, immigrants settle suit -- Chinese-speaking buyers were falsely told bad credit meant they must take high-interest loans, plaintiffs say. Financial award is undisclosed."
NY Times: GM nears settlement in lawsuit over lending
###
---
CARS files Car Buyers Protection Act Initiative
for the Nov. 2014 Ballot in California
Statewide polling shows overwhelming support among likely voters
88% favor safety recall provision
The Car Buyers Protection Act will:
Make it illegal for car dealers to sell, rent, lease, or loan used vehicles that are under a federal safety recall, unless the safety recall repairs have been performed
Improve protections for car buyers who are victims of ID theft at auto dealerships
Prohibit dealers from hiring people convicted of ID theft, forgery, or other fraud, for positions where they would have access to car buyers' personal financial information
Prohibit dealers from engaging in "bait and switch" financing (also known as yo-yo financing)
Prohibit dealer markups – hidden extra charges that raise the cost of financing car purchases and cost California car buyers over $2.6 billion in a single year
Require all dealers to provide at least a 30 day / 1,000 mile warranty (currently, only "buy here pay here" dealers are required to provide minimum warranties, so many other dealers continue to sell faulty vehicles "AS IS")
Eliminate the New Motor Vehicle Board's authority to overrule the DMV when the agency disciplines an auto dealer or manufacturer for violating consumer protection laws
Read more:
News Release
California Statewide Polling Results
Car Buyers Protection Act -- Summary and background about each provision
TEXT of Car Buyers Protection Act filed with CA Attorney General
---
Auto dealers and auto manufacturers trying to kill rental car safety bill
Representatives of the auto manufacturers and new car dealers testify against the Raechel and Jacqueline Houck Safe Rental Car Act, before the US Senate Commerce Subcommittee on Consumer Protection, Insurance and Product Safety
New car dealers and auto manufacturers are lobbying Congress behind the scenes in an attempt to derail the Raechel and Jacqueline Houck Rental Car Safety Act, which would prohibit rental car companies from renting unsafe, recalled vehicles to the public unless the safety recall repairs have been performed.
The dealers complain that some of them own rental car companies on the side, and they don't want to lose any revenue from renting cars just because they're unsafe. The auto manufacturers argue that even though they made the defective cars, they shouldn't have to worry about compensating rental car companies for lost revenue when the vehicles are out of service, while the safety recall repairs are performed.
The dealers want to be able to pick and choose which safety recalls are serious enough to require them to fix the car first. That would also allow them to choose who ends up riding in the unsafe cars. Under current law, the dealers are prohibited from selling unsafe, recalled cars to consumers -- if the cars are NEW. But there's no law that keeps dealers from renting recalled cars to unsuspecting consumers.
The Moment of Truth: Should rental car companies be allowed to rent cars to the public when they are under a safety recall?
Even in Missouri, home of the nation's largest rental car company, a whopping 86% of the public says NO.


What do the auto manufacturers and car dealers say? See for yourself:
Note: the car dealer representative also said that the dealers who own rental car companies should be the ones to decide which recalled cars are safe enough to keep renting, without getting them repaired. Instead of grounding unsafe, recalled cars until they're fixed, they prefer to "disclose" they're being recalled. Then if you drive a recalled rental car and are injured or killed, they can say that it was your fault because you "assumed the risk." Nevermind the fact they deliberately rented you an unsafe car.

---
BOXER PRAISES COMMITTEE PASSAGE OF LEGISLATION TO ENSURE SAFETY OF AMERICA'S RENTAL CAR CUSTOMERS
Legislation Would End the Practice of Renting or Selling Vehicles Under Safety Recall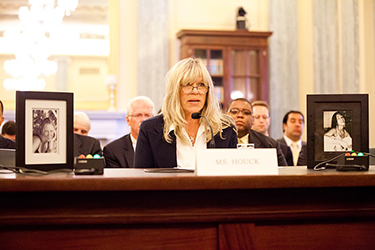 Washington, D.C.
– U.S. Senator Barbara Boxer (D-CA) today praised the Senate Committee on Commerce, Science and Transportation's passage of the Raechel and Jacqueline Houck Safe Rental Car Act of 2013, legislation that will ensure the safety of America's rental car fleet by preventing rental car companies from renting or selling cars or trucks that are under safety recall. Senator Boxer is a lead sponsor of the bipartisan measure along with Senators Chuck Schumer (D-NY), Lisa Murkowski (R-AK) and Claire McCaskill (D-MO). The bill passed the committee by a unanimous voice vote.
The legislation is named in honor of Raechel and Jacqueline Houck, two sisters from Santa Cruz, ages 24 and 20, who were killed while driving a recalled Chrysler PT Cruiser they had rented from Enterprise in 2004. About a month before the deadly crash,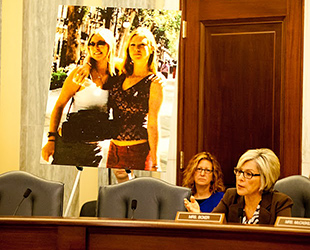 Enterprise received a recall notice that the PT Cruiser had a defective power steering hose that was prone to catching fire and that it would be repaired by Chrysler free-of-charge. Despite the warning, Enterprise did not get the vehicle repaired and rented it out to three other customers before renting it to the Houck sisters. The defect caused the car to catch fire and crash head-on into a tractor-trailer, killing both sisters.
Their mother, Cally Houck, has since joined with consumer groups in support of the legislation, which would close a loophole in safety standards by requiring rental car companies to ground recalled vehicles as soon as they receive a safety recall notice and prohibit them from being rented or sold until they are fixed. Auto-dealers are already subject to these requirements and the bill would simply extend the same requirements to rental car companies.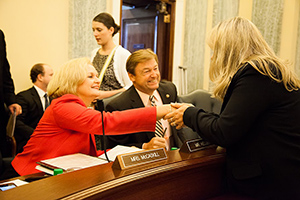 "Today the Commerce Committee paid tribute to two of my California constituents who lost their lives in a senseless tragedy by passing the Raechel and Jacqueline Houck Safe Rental Car Act," Senator Boxer said. "This bill will protect our families by keeping vehicles under safety recall off our roads, and I will be working hard to ensure its passage by the full Senate."
"If this bill had been in effect when my daughters rented that recalled car, they would still be alive today,"
said Cally Houck.
"No other parents should have to suffer such a horrific loss because a rental car company hasn't bothered to get an unsafe recalled car repaired."
"We're one major step closer to putting an end to 'recalled rental car roulette',"
added Rosemary Shahan, President of Consumers for Auto Reliability and Safety.
The legislation is supported by all of the major car rental companies – Hertz, Enterprise, Avis Budget and Dollar Thrifty – as well as Consumers for Auto Reliability and Safety, Advocates for Highway and Auto Safety, the Center for Auto Safety, Consumer Action, the Consumer Federation of America, Consumers Union, the National Association of Consumer Advocates and the Trauma Foundation.
###
---
Recalled Used Car Roulette
Auto Dealers Sell Unsafe, Recalled Used Cars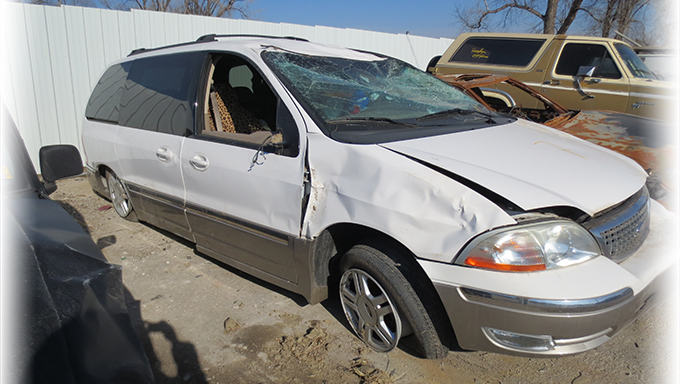 Auto dealers to California legislators:
Don't stop us from selling unsafe, recalled used cars
Auto dealers and their lobbyists stalled popular, common-sense auto safety legislation in Sacramento aimed at stopping them from renting, selling, leasing, or loaning unsafe, recalled used cars to consumers. They complained that it's impossible for them to know whether the used cars they offer for sale to the public are subject to a federal safety recall. They told legislators that it's too much bother to check the safety recall status of used cars. They said it would take too much effort to get unsafe, defective used cars fixed, prior to sale -- even though the repairs are FREE. They also complained about having to delay sales if parts for repairing the safety defects are temporarily unavailable.
Their lobbyists refused to answer pointed questions posed by Assemblymember Roger Dickinson (D-Sacramento), a former lemon law attorney with decades of experience representing owners of unsafe lemon vehicles. He asked them: "You sell them to people? Is that what you do? You sell a car that you know may be unsafe to someone?"
Dealer lobbyist: "But the part isn't available to fix. So is your suggestion..."
Dickinson: "Wait, wait. No. Answer the question."
Car dealers try to kill safety recall bill: caught on video
Senator Hannah-Beth Jackson (D-Santa Barbara), the author of the measure, SB 686, spoke passionately about why it's important to ensure that used car buyers are provided the same protections afforded new car buyers. Under federal law, auto dealers are prohibited from dumping recalled NEW cars onto the public, until they're fixed, but there is no prohibition against dumping them on purchasers of USED cars.
Tragically, even new car buyers are not safe. As Fe Lastrella of Vallejo, CA testified at the hearing, she lost four family members who were killed by an unsafe Lexus that Bob Baker Lexus in El Cajon, CA loaned to her son-in-law, CHP officer Mark Saylor. Earlier, he had purchased a new Lexus IS 250 sedan. On the fateful day of August 28, 2009, he dropped his new car off for repairs. The dealership loaned him a used 2009 Lexus ES 350. Three days earlier, another customer had complained that the Lexus had surged out of control. Yet the dealer failed to fix it.
Later that day, Mark Saylor was riding with his wife Cleofe Lastrella Saylor, their daughter Mahala, age 13, and his brother-in-law Chris Lastrella enroute to a soccer game. The loaner Lexus accelerated out of control and sped down the freeway, reaching speeds of 120 mph. Chris Lastrella called 911. That call has now been heard around the world. He told the dispatcher that "our accelerator is stuck." He reported that "we're going 120" as the runaway loaner car approached an intersection, where the freeway ended. The killer car hit another car, crossed the curb, hit a dirt embankment, became airborne, and then rolled into a dry creek bed, where it burst into flames. All four perished. At the very end of the call, Chris's voice is heard telling his family to "hold on" and "pray, pray, pray."
Fe Lastrella, a retired school teacher, and her husband Cleto, who retired as a Command Master Chief from the U.S. Navy, lost their daughter, Cleofe, their son Chris, their granddaughter Mahala and son-in-law Mark Saylor in the crash.
According to investigations by the San Diego Sheriff's Department, the California Highway Patrol's Multidisciplinary Accident Investigation Team and the National Highway Traffic Safety Administration, an oversized, rubber, all-weather floor mat was in the driver's side foot well of the loaner Lexus. The mat was designed for a Lexus sport-utility vehicle, an RX 400H, and was longer than the mats designed for the ES 350 sedan. The investigations found that the floor mat was fused to the accelerator pedal.
Who is working to get the safety recall bill, SB 686, made into law?
Consumers for Auto Reliability and Safety (official sponsors, taking the lead in working with Sen. Jackson for enactment)

Advocates for Highway and Auto Safety
California Public Interest Research Group
California Nurses Association
Center for Public Interest Law
Children's Advocacy Institute
Consumer Action
Consumer Attorneys of California
Consumers Union
Consumer Federation of America
Consumer Federation of California
Consumer Watchdog
Enterprise Holdings
Firefighters Burn Institute
Hertz Corporation
Latino Business Association
National Consumers League
SAFE KIDS CA
State Farm Insurance Co.
Trauma Foundation
Retired New Car Dealer Salvatore Cerrito
Who is trying to kill the safety recall bill?
Carmax
California New Car Dealers Association
California Chamber of Commerce (their current president, Fritz Hitchcock, is a mega-dealer in Southern California)
AutoNation (the country's largest auto dealership chain, which took in over $15.6 billion last year. AutoNation is based in Florida and owns many dealerships throughout California. One of AutoNation's largest investors is Bill Gates.)
Senator Jackson vowed to keep on fighting to outlaw auto dealers from engaging in "recalled used car roulette." The soonest SB 686 can be revived is next January. Meanwhile, the smartest thing to do is NEVER trust a car dealer to make sure any car you buy is safe. They have testified that they don't have a clue, and it's too much bother to check.
How can you get a good deal on a safe, reliable used car -- without having to set foot on a car dealer's lot?
CARS tips
More news coverage:
Fatal Accident Sparks Debate at State Capitol
ABC 30 KFSN-TV Fresno, CA
Mother of Crash Victims Testifies in Support of Senate Bill
Fox 5, San Diego
Calif. Lawmakers slam brakes on used-car safety bill
NBC - KCRA-TV Channel 3 Sacramento
Bill spawned by CHP Officer's death stalls
San Diego Union-Tribune report
---