"New Jersey Car Recall Bill May Provide Less Protection in Legal Disputes"
KIYC-TV in Trenton, New Jersey
July 5, 2018
by Walt Kane / Kane in Your Corner and producer Karin Attonito
"A bill that purports to protect consumers from car dealerships that sell recalled vehicles could actually provide consumers with far less protection in legal disputes, a
Kane In Your Corner
investigation finds.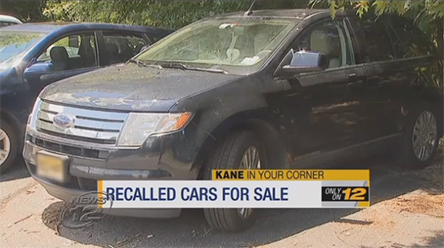 The bill, sponsored by Sen. James Beach (D- Cherry Hill) includes a section totally unrelated to recalls, which would reduce buyers' rights under the New Jersey Consumer Fraud Act. State election records also show the bill was introduced after three years of large contributions from car dealerships to the Senate Majority PAC, including $500,000 from one car dealer alone.
Alexis Rodrigues is the kind of car buyer the bill would appear to help. She thought she was getting a good deal on her 2009 Ford Edge, until she got a recall notice saying the car had defective airbags, and replacements would not be ready until September. 'I'm spending money on a vehicle that we can't use,' she says.
Had the bill been in place, Rodriques would have had to have been informed that the car she was purchasing had an open recall. But there's something else in the bill that sponsors aren't so eager to talk about.
"It's a double whammy to consumers and a gift to auto dealers," consumer attorney Michael Galpern says bluntly...
Alexis Rodrigues is skeptical the bill would even benefit people in her situation, saying lawmakers should simply ban the sale of cars with open recalls instead. 'Even if this passes, it's still going to happen,' she says. 'They'll just slip it by you and you'll sign it. And it's just going to keep happening.' "
Watch full report: KIYC-TV:
"New Jersey Car Recall Bill May Provide Less Protection in Legal Disputes"
Note: It is already illegal under various state laws in all states including in New Jersey -- with the sole exceptions of Pennsylvania and Tennessee -- for car dealers to sell unsafe recalled cars, whether they are new or used.
---