Sen. Boxer urges
General Motors CEO Mary Barra
to support Rental Car Safety Legislation

GM is Part of Industry Trade Group Lobbying to Block Legislation to Protect Consumers from
Unsafe, Recalled Rental Cars

Washington, D.C. –

U.S. Senator Barbara Boxer (D-CA) today sent a letter urging General Motors CEO Mary Barra to support the Raechel and Jacqueline Houck Safe Rental Car Act, bipartisan legislation that would help protect consumers by keeping unsafe, recalled rental cars off the road.

Last week, at a Senate Commerce Subcommittee hearing on GM's recall of 2.6 million vehicles, Senator Boxer

questioned

Barra about GM's troubling opposition to the legislation – through the industry trade group, the Alliance of Automobile Manufacturers – in light of the company's promise to cover the cost of interim rental vehicles while customers wait for their vehicles to be repaired. Barra agreed at the hearing to take a closer look at the legislation.

Senator Boxer wrote,

"Your support for this bill is critical because right now there is no guarantee that your customers are renting safe cars while they wait for their recalled vehicles to be repaired."

Senator Boxer

introduced

the legislation with Senators Claire McCaskill (D-MO), Charles Schumer (D-NY) and Lisa Murkowski (R-AK) after two of Boxer's constituents – Raechel and Jacqueline Houck, two sisters from Santa Cruz – were killed in a tragic accident in 2004 while driving a rented Chrysler PT Cruiser that had been recalled for a power steering hose defect but had not been repaired. The car caught fire because of the defect while traveling on Highway 101 in Monterey County, causing a loss of steering and a head-on collision with a semi-trailer truck.

In September 2012, Senators Boxer, Schumer and McCaskill

announced

that all major car rental companies – Hertz, Enterprise, Avis Budget, Dollar Thrifty, and National – agreed to voluntarily stop the renting or selling of vehicles that have been recalled by their manufacturer and endorsed the legislation.

Although the bipartisan bill has the support of the major rental car companies and consumer advocates, the Alliance of Automobile Manufacturers – which includes GM – has opposed the bill and is working to prevent it from moving forward in the Senate. The National Automobile Dealers Association, which includes many GM franchise dealerships, is also opposed to the legislation.

"You testified that 'When there's a safety issue, there should never be a business consideration that goes against it',"

Senator Boxer continued.

"I hope you will take this to heart as you review this legislation."

The legislation is also endorsed by American Car Rental Association, Consumers for Auto Reliability and Safety, AAA, Advocates for Highway and Auto Safety, Consumers Union, and State Farm Insurance. The bill also has the support of Cally Houck, the mother of Raechel and Jacqueline Houck.

The full text of the letter follows:

April 8, 2014

Mary T. Barra, Chief Executive Officer

General Motors Company
P.O. Box 33170
Detroit, MI 48232-5170

Dear Ms. Barra:

During your testimony before the Senate Commerce Subcommittee on Consumer Protection, Product Safety, and Insurance, you stated that you had not read S. 921, the Raechel and Jacqueline Houck Safe Rental Car Act, which is named after two sisters from Santa Cruz who were killed when a recalled car they had rented caught fire and crashed into a truck.

This legislation, which was first introduced in 2012, would:


Prohibit the rental or sale of rental vehicles subject to a federal safety recall, consistent with existing law for new car dealers, who are prohibited from selling or leasing recalled vehicles.
Require rental companies to ground vehicles within 24 hours of receiving a safety recall notice from the manufacturer. Companies with fleets over 5,000 vehicles would have up to 48 hours.
Permit rental companies to implement temporary measures to eliminate the safety risk until parts are available.
Allow manufacturers to continue to issue technical service bulletins or customer satisfaction service campaigns for problems that do not rise to the level of a federal safety recall.

Your support for this bill is critical because right now there is no guarantee that your customers are renting safe cars while they wait for their recalled vehicles to be repaired.

You testified that "When there's a safety issue, there should never be a business consideration that goes against it." I hope you will take this to heart as you review this legislation.

Sincerely,

Barbara Boxer
United States Senator
---
Wisconsin "Lemon Law King" sues Tesla
San Jose Mercury News
April 7, 2014
Attorney Vince Megna filed the Wisconsin lawsuit in Milwaukee County Circuit Court. He said he believes the lawsuit is the first lemon law claim against Tesla anywhere in the country. Rosemary Shahan, president of Consumers for Auto Reliability and Safety, a national nonprofit car safety and consumer advocacy organization, said she hasn't heard of any other similar lawsuits against the Palo Alto-based company.
"I would guess for the most part they're taking pretty good care of these customers," Shahan said of Tesla. "They have a lot of reason to keep them happy. High-end customers tend to get treated differently ... why did they let it get to this point where they had to file a lawsuit?"
Read more:
San Jose Mercury News: Wisconsin "Lemon law king" sues Tesla
---
---
CA Senator Barbara Boxer
challenges GM CEO Mary Barra:
Stop opposing federal rental car / safety recall bill
Barra claims GM no longer places top priority on costs, at the expense of its customers' safety. But the sole reason that GM and the Auto Alliance give for opposing the Raechel and Jacqueline Houck Rental Car Safety Act? They don't want to face having to pay rental car companies for lost revenue if they have to ground vehicles that are under a safety recall, pending repairs. Apparently GM anticipates making a lot more unsafe vehicles that will be subject to safety recalls. Hardly reassuring.
BOXER PRESSES GENERAL MOTORS CEO MARY BARRA ON RENTAL CAR SAFETY
Senator Asks Why GM Is Part of Industry Effort to Block Legislation to Protect Consumers from Unsafe, Recalled Rental Cars – While at the Same Time Placing Owners of Its Own Recalled Cars into Rental Vehicles
Washington, D.C.
– U.S. Senator Barbara Boxer (D-CA) today questioned General Motors CEO Mary Barra on rental car safety at a Senate Commerce Subcommittee hearing on GM's recall of 2.6 million vehicles. Senator Boxer asked Barra to explain GM's opposition – through the industry trade group, the Alliance of Automobile Manufacturers – to the Raechel and Jacqueline Houck Safe Rental Car Act, which would protect consumers from unsafe rental vehicles under recall – at the same time that GM is placing owners of its own recalled vehicles into rental cars.
To view the video of Senator Boxer's exchange with Barra on her official website, please click
here
.
"Do you support a proposed law by Senator McCaskill and myself that would say recalled cars like yours can no longer be rented or loaned?"
Senator Boxer asked.
After Barra refused to commit to supporting the bill, Senator Boxer responded:
"Now you should know that my constituent Cally Houck lost her two daughters, Raechel, 24, and Jacquie, 20, in a tragic accident caused by an unrepaired safety defect in a rental car they were driving. So [with] Senator Schumer and McCaskill, we wrote the Raechel and Jacqueline Houck Safe Rental Car Act. And you know what, the rental car people support it, but you don't. The automobile manufacturers don't. So you are essentially bragging today, if I may use the word, that you're telling your people to get another car, but at the same time your lobbying organization is opposing a bill that would make sure no one would die the way they died."
While current law prohibits car dealerships from selling new vehicles under recall to consumers, no law bans rental car companies from doing the same or renting them to unsuspecting consumers. The
Raechel and Jacqueline Houck Safe Rental Car Act
– sponsored by Senator Boxer and Senators Claire McCaskill (D-MO), Charles Schumer (D-NY) and Lisa Murkowski (R-AK) – would keep unsafe rental cars that have been recalled off the road.
The bipartisan bill is named in honor of Raechel and Jacqueline Houck, two sisters from Santa Cruz, who were killed in a tragic accident in 2004 while driving a rented Chrysler PT Cruiser that had been recalled for a power steering hose defect but had not been repaired. The car caught fire because of the defect while traveling on Highway 101 in Monterey County, causing a loss of steering and a head-on collision with a semi-trailer truck.
In September 2012, Senators Boxer, Schumer and McCaskill
announced
that all major car rental companies – Hertz, Enterprise, Avis Budget, Dollar Thrifty, and National – agreed to voluntarily stop the renting or selling of vehicles that have been recalled by their manufacturer and endorsed the legislation.
Although the bill has the support of the major rental car companies and consumer advocates, the Alliance of Automobile Manufacturers – which includes GM – has opposed the bill and is working to prevent it from moving forward in the Senate. The National Automobile Dealers Association, which includes many GM franchise dealerships, is also opposed to the legislation.
Boxer made clear that Barra's stance is especially troubling in light of GM's promise to cover the cost of interim rental vehicles while its customers wait for their vehicles to be repaired. Although the major rental car companies have pledged to keep unsafe vehicles off the road, there is no assurance that a driver will be placed in a safer vehicle since there is no federal law that prevents unsafe, recalled vehicles from being sold or rented to consumers.
Senator Boxer pointed out,
"So you can send your owner of one of these cars to a rental place to get a loaner … and they could get a defective car."
The legislation is also endorsed by American Car Rental Association, Consumers for Auto Reliability and Safety, AAA, Advocates for Highway and Auto Safety, Consumers Union, and State Farm Insurance.
---
Good Morning America:
Are used car dealers selling cars with open safety recalls?
April 2, 2014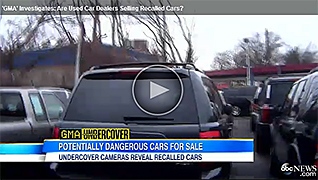 Credit: Good Morning America
Good Morning America undercover investigation finds car dealers selling unsafe, recalled used cars, claiming they are safe -- including the Chevy Cobalt with the ignition switch defect that led to GM's massive safety recall and hearings before the US House and Senate. Major franchised new car dealership in Los Angeles sold recalled 2004 PT Cruiser to young actor, age 18, as his first car -- without bothering to have the safety recall repairs performed.
Watch the story:
abcnews.go.com/blogs/business/2014/04/gma-investigates-are-used-car-dealers-selling-cars-with-open-recalls
---
Consumer Financial Protection Bureau and U.S. Department of Justice Tackle auto dealer markups on auto loans
CARS President joins civil rights, consumer rights leaders on auto lending panel at CFPB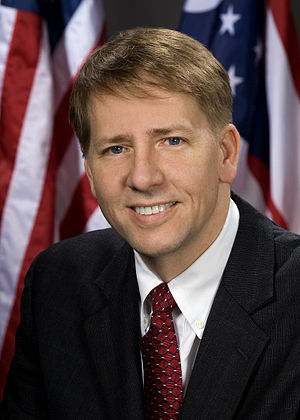 Federal regulators, including the Consumer Financial Protection Bureau, have put auto lenders on notice they face a new level of scrutiny over their discriminatory auto lending practices, which result in minority car buyers being charged extra amounts in hidden excessive interest rates, despite having the same credit as non-minority borrowers.
According to CFPB Director Richard Cordray, "Some people end up paying more on their auto loans than their neighbors – with the difference being not their creditworthiness but their race or ethnicity. Such discrimination may result in millions of dollars in unjustified consumer harm every year in the auto lending industry."
Lenders such as Ally Bank have notified stockholders that they face the possibility of fines or other penalties linked to legal action over discriminatory auto lending. Ally Bank, formerly named the General Motors Acceptance Corporation, collapsed during the recession and was bailed out by taxpayers, to the tune of tens of billions of dollars. In 2004, GMAC settled similar litigation brought on behalf of African American and Latino borrowers who were charged higher dealer "markups" than their white counterparts who had similar credit.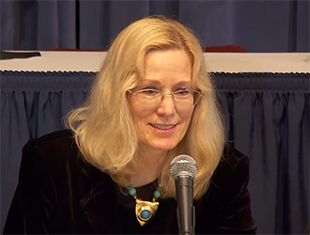 New York Times: Scrutiny over disparity in loan fees at auto dealerships
CARS President Rosemary Shahan testified on a panel with Stuart Rossman from the National Consumer Law Center, Hilary Shelton from the National Association for the Advancement of Colored People (NAACP), and a representative of the Minority Auto Dealers Association. Rosemary stated that CARS opposes dealers being able to charge extra hidden fees that add to the interest rates consumers pay for auto financing. For many years, CARS has spearheaded efforts in California to reduce the risk of discriminatory auto lending and the costs car buyers pay for dealer markups. In 2004, CARS sought to cap dealer markups at $150 per transaction, via the Car Buyer Bill of Rights, a ballot initiative that statewide polling showed to be extremely popular. As the result of a watered-down legislative compromise, CA ended up with caps on dealer markups -- 2.5% for loans up to 60 months and 2% for longer loans. Except for Louisiana, California is the only state with a law that caps dealer markups.
On October 30, CARS filed the Car Buyers Protection Act, a new ballot initiative to make newer, cleaner, safer vehicles more affordable, including flat-out prohibiting dealer markups on auto financing. Among likely voters in 2014, that provision polls at an overwhelming 82% support.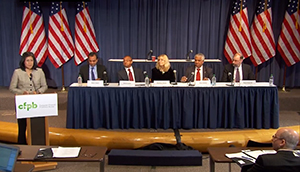 Read more:
CFPB Director Richard Corday's remarks at the CFPB's Auto Finance Forum
Civil rights and consumer advocacy groups clash with auto dealers and lenders --
watch video of
Consumer Financial Protection Forum on Auto Financing
Wall Street Journal: Banks press car dealers on loan practice
US Department of Justice files lawsuit alleging auto lending discrimination in Los Angeles
LA Times: "Car dealer, immigrants settle suit -- Chinese-speaking buyers were falsely told bad credit meant they must take high-interest loans, plaintiffs say. Financial award is undisclosed."
NY Times: GM nears settlement in lawsuit over lending
###