Warning the American public about hazards posed by Ford
And other manufacturers that fail to provide safe loaner cars
"Many Auto Dealers Routinely Deny Loaner Cars
To Customers Waiting For Fix To Deadly Airbags"
Forbes
May 8, 2018
By Diana Hembree
"When Robert Torres of La Habra, California, bought a used Mustang from a car dealer in 2014, he didn't expect it to come with a potentially deadly defect.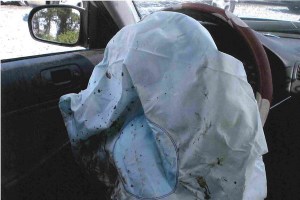 In May 2016, Ford issued a safety recall for the Takata airbag on the driver's side, which had been linked to serious injuries and deaths. When Torres took in his car for repairs, the dealer made changes to the airbag but told him replacement parts were unavailable. In July 2016, Ford issued another recall, this time for the defective Takata airbag on the passenger side. In December 2017, Ford sent a notice to Torres warning him not to let anyone sit in the passenger seat until it was repaired.
A Ford dealer promised Torres a loaner car, but despite repeated calls and letters from Torres and others to the dealer and to Ford Motor Company, it never materialized.
Torres says that he called the dealer regularly to ask when parts would be ready, but he was told there were no parts and that he just had to wait....
'Outrageous' is how Rosemary Shahan, the founder and president of Consumers for Auto Reliability and Safety (CARS), describes Ford's response to Torres and other consumers seeking loaner cars.
Discussing vehicle owners waiting for replacement airbag parts, Shahan said, 'Automakers should provide all of their customers with safe loaner cars and ensure that they are free from safety recall defects,' she says. 'They should also ensure that the car owners don't run into barriers in getting safe, no-cost alternative transportation.' "
Read more:
Forbes: "Many Dealers Routinely Deny Loaner Cars to Customers Waiting for Fix to Deadly Airbags"
---